Manage, file and print AutoCAD plans in one click !
Now compatible with the Ipad !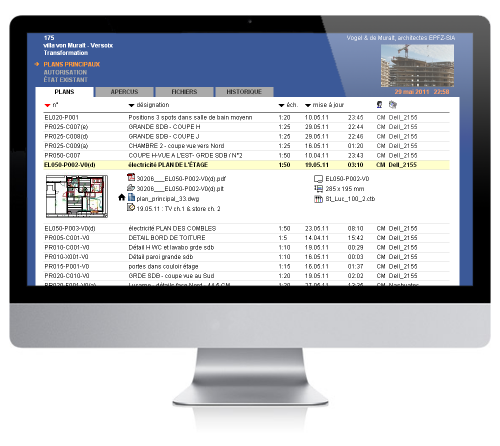 CAD file management
CADORG offers a unique way to manage AutoCAD documents digitally, project by project, and to give easy access to them to anyone.
Save time and paper by viewing your plans on your screen and print them only if needed.
CADORG tracks drawing revisions and keeps plan sets up-to-date for viewing and printing.
CADORG gives you full overview on each project and access to any project's document (DWG + PLT / PDF) in a few clicks .
PDFs are automatically available for easy viewing.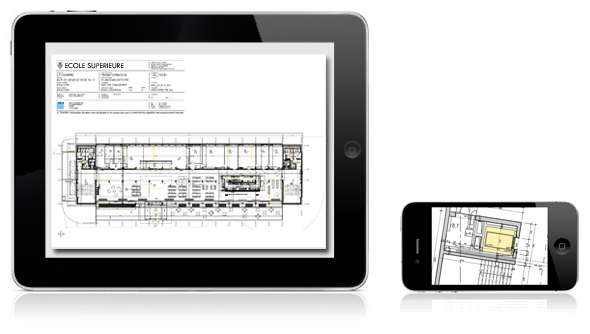 Easily share and distribute your CAD documents
Anyone connected to your network can easily view, print or open your drawings through any Web browser.
You can share projects through Internet, Intranet or distribute them on a CD.
No CAD knowledge or software is required to view the plans as a PDF version is always available.
CADORG is compatible with the Ipad, so that you can access your plans anywhere through Internet.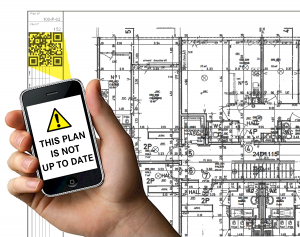 How does CADORG work ?
Each plan is automatically filed (PLT, DWF or PDF) when plotted from AutoCAD and document lists are updated for each project separately.
All plans can be viewed on any computer over a LAN or across the Internet through common HTML pages.
Each plan is digitally stored (PLT / PDF) and can be reprinted anytime without having to reopen the original dwg-file.
All you need is AutoCAD 2000 to 2011 (or verticals) and your local server for files storage.
CADORG doesn't require any server installation. With the optional web server module using a MySQL database and a PHP application, you can extend the power of CADORG and link it to other applications like ESRI.
CADORG can manage thousands plans and hundreds buildings
Digital blueprint management
Blueprints archiving in filing cabinets is redondant as all your plans are stored digitally.
CADORG helps you prepare printing jobs for any reprographer.
For your local prints, a print log is generated for statistics or billing purposes, project by project.
A precious help for workgroup management
CADORG tracks plan revisions and archives all CAD work in your office, so that each plan can be easilly found, any blueprint can be identified and checked if still valid.
Guaranteed fullfilment of ISO 9000 quality label requirements in terms of plan classification, archiving and distribution
Features
Title block automated management
PDF support
PLT support
Plan revision history management
Plan archiving automation (PLT/PDF)
Compatibility : PC/Linux/Mac/Ipad
Project publishing to the WEB
Document search tools
Billing log for local prints