Buy PolyTools (online secured payment through Share*it)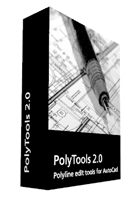 Please select how may licences you wish to purchase by clicking on the corresponding button.
To purchase more than 5 licenses, please contact us for special discounts

After clicking on Buy Now, you will enter a secure payment page at PayPal.com. Follow the payment procedure and don't forget to enter your email, so we can send you your license.

Once the payment is completed, you will receive a license by e-mail wich will allow you to use Polytools on any computer for 30 days. You will be invited to send us your AutoCAD licence numbers in order for us to make a final license registration.


PolyTools for AutoCAD / ADT 2000-2007
| | | | |
| --- | --- | --- | --- |
| | | | |
| 1 license | USD 100.- | | |
| | | | |
| 3 licenses | USD 240.- | 20% discount | |
| | | | |
| 5 licenses | USD 350.- | 30% discount | |